xH Music Chart流行音乐榜年度统计和颁奖典礼2013!

今年乐坛平静,不过,好的专辑,好的歌曲并不少。到底谁会脱颖而出?

2013年年度统计

十大最受欢迎男歌手
十大最受欢迎女歌手
十大最受欢迎团体
年度顶尖100

将会在12月31日公布!敬请留意!

流行音乐榜 颁奖典礼 2013

目前确定的将向包括

年度专辑大奖
年度单曲大奖
最佳演绎男歌手
最佳演绎女歌手
最佳团体
最佳创作歌手
榜上风光奖
最受欢迎男歌手
最受欢迎女歌手
十大金曲
杰出歌手(台湾)
杰出歌手(香港)
杰出歌手(马来西亚)
杰出歌手(中国内地)
杰出歌手(新加坡)

入围名单将在12月22日,星期天,揭晓!
榜上成绩将在12月29日公布!

敬请留意!

更多详情,请到 https://www.facebook.com/pages/XH-Music-Chart-%E6%B5%81%E8%A1%8C%E9%9F%B3%E4%B9%90%E6%A6%9C/117708751654260 查阅!
Last edited by xH on Mon Dec 30, 2013 5:08 am; edited 2 times in total

xH

Experienced Member





Join date

: 2010-04-17


Posts

: 849




xH

Experienced Member





Join date

: 2010-04-17


Posts

: 849




2013 is a year of slowness. Not many albums and big shots releasing album. Nevertheless, these 5 albums are in my opinion very well produced albums.
Hebe has been emphasising on quality production and this one never fails to impress me too. However, the theme of
Insignificant
is not that evident in the whole album and the album probably lacks that WOW factor. Nevertheless, this album still has great quality and worth listening again and again.
Similarly, everytime when Sodagreen release an album, it will be very anticipating. Every single song seems to have a soul of its own. Thats the speciality and X-factor of Sodagreen. If until now you still hadnt really heard sodagreen, I would say that you have missed out real gems all these while. I did not choose this for Best Album as I generally preferred their previous album, with a clearer theme and very impressive songs.
Aska sure took alot of you by surprise. His recent work surprised me literally. His previous album showed a very different side of Aska, and this album, he finally showed us that he is willing to try out different genres and elements of music. Although I would say this album is the weakest of the 5, but it is already a great compliment and improvement from Aska. Looking forward to his next album.
Tanya has been recognised worldwide for her unique ideas in music - the calm-emo kind of music. This album of course has no lack of these kind of songs. The reason why I chose this album as the Album of the year is because this album really WOW-ed me. Never was I really anticipating to many songs in her albums before. Probably due to drama effect, her significant hit Ten Gallant Worth of Tears managed to touch me deeply, with simple tune but the most emotional lyrics. Her other works also revolve around loneliness, being neglected. What really surprises me was her Tamed Elephant, where she brought out the reality of life now where people have to adapt to the surroundings to survive. Simple impressed with many songs in this album and i felt she deserve the win.
Penny has been consistent in her work all these while however, this time she managed to make a breakthrough as her album comprises of many different genres and her different kind of ideas. She showed us that she can also be quite all rounded. However, what i felt was a pity was her choice of her 1st 2 hits, which was to the best - boring. However, Im rather impressed by her
How Can You Sleep Just Like That?
, depicting a lover leaving the world, and the built up sadness that followed after. Kudos to Penny!
Honestly speaking, I had quite a hard time churning out 5 picks of the year of 2013. When Hebe's 1st hit
Insignificant
was released, I knew this have to be one of the best hits of 2013. The music is so well played and the lyrics are very very meaningful. However, this sadly lacks in the durable factor that will allow me to really want to listen to it again and again unlike her
My Love
. This cost her to lose this award sadly. However, for the music and lyrics, this definitely deserves the nomination.
This is the first time I'm picking a Tanya song to be one of the best 5 picks of 2013. Honestly speaking, Tanya's past work was nothing more than bland emo, which is not my cup of tea. This song,
Ten Gallant Worth of Tears
managed to touch me very much, further contributed by the Drama effect. However, the usage of too many
ah
in the song can get annoying sometimes. However, this song is definitely one of her best works and deserves the nomination.
Sodagreen's I Miss You Very Much is really a monster hit, as described by many this year. This song should be undisputably the best pick of 2013. From music, to lyrics, to singing, Sodagreen has managed to score high points for all components, and until now I can't deny that this is definitely one of the best works produced by Sodagreen. Having so many good works, to edge even better than their previous is definitely not easy, kudos to Sodagreen!
Cheer's songs have a undescribable uniqueness that will keep you attracted. You wouldnt notice this song very much as it sounds simple and doesnt have a really wow tune. Maybe is her vocals, coupled with the lyrics and the simplicity of the song that attracts me quite abit. As compared to other songs, this song stands out in my opinion and I think she deserves that nomination for this song.
Wanting's nomination as one of the top 5 pick surprised me too. When I first heard this song, I thought, wow, this is much better than
In My Vocals
which was a hit previously. The tune, and melody encompasses the elements of sadness and jolting your emotions. Quite commendable effort by Wanting and I thought she should deserve the nomination. I realised another rare gem I Sing For You too late, that song is another awesome song from her. She really made me look at her in a different light this time.
Deciding the nominees for these categories werent very difficult as there are a simply lack of quality singers in 2013 album release. Hence I shant go on further.
I had a hard time deciding the Best Male Vocalist between Anthony and Aska. You are surprised why I left out JJ for consideration. I felt that this JJ's album is actually a back-paddle compared to his previous, seemingly lack of quality songs in this album, although I still love this album but still, I would say I'm a little disappointed. Similarly for Anthony, his album this time round disappointed me quite abit, was expecting something rock ballad like
Dear Death
but i just couldnt find any, the closest I could find was
The Weight of Sweat
. However, i applaud his courage to do something different and his vocals didnt disappoint me. His awesome hit
Recuperating Singer
managed to touch me so much, of course due to drama effect, and his other hits too. Calm emo. Good direction for Anthony but I prefer his previous works. As for Aska, as mentioned above, I'm already impressed by his album works and his vocals has been strong. Hence, ta-da, this award goes to him.
For Best Female Vocalist, Penny should have quite a deserving win for this as I have always admired her vocals. With this awesome album, this award should go to Penny. Why not Tanya? Honestly speaking, Tanya needs a very very strong album for me to be convinced that she has very good vocals. I admire her works, but not her vocals actually. This album is good but I felt that vocals wise, Penny did better. Hebe is on her way for this award, she needs to have better songs and better album for a deserving win!
Best group - undoubtedly Sodagreen. Enough said.
Many composing artiste, how to pick the top 5? Of course these 5 artiste really impressed me much this year. However, the best album winner - Tanya deserves this award as she produced the best album =)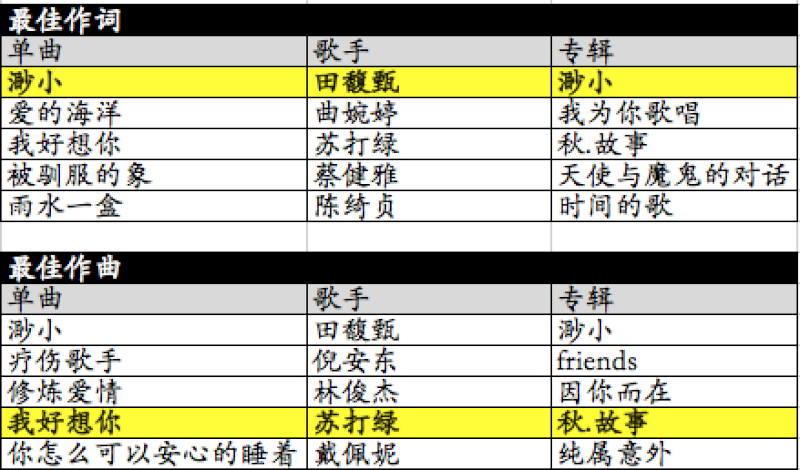 As mentioned above, I'm the most impressed with the lyrics of
Insignificant
. Hence this award goes to Hebe! The others are worth a listen too. Commendable!
For music wise, it has got to be Sodagreen - the monster hit.
These 2 awards are rather subjective but it's my own preference. Sodagreen's
Meet Again
definitely wins over the other 4 due to their impressive music production and lyrics. The fast paced song is very nice to sing and meaningful.
Best Emotional Song has got to be Tanya, made me tear so much. =D
tabulated from xH Music Chart. Full Tabulations to be released on 31 Dec =)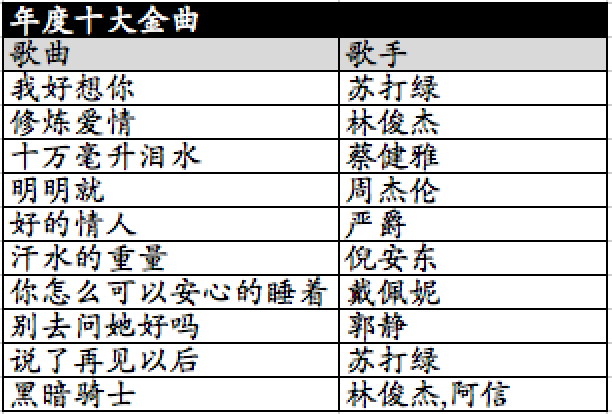 xH

Experienced Member





Join date

: 2010-04-17


Posts

: 849



xH Music Chart 流行音乐榜 顶尖100


1 我好想你[3周榜首] / 苏打绿 / 秋.故事 / 停榜15周 / 212分
2 修炼爱情[3周榜首] / 林俊杰 / 因你而在 / 停榜14首 / 209分
3 十万毫升泪水[2周榜首] / 蔡健雅 / 天使与魔鬼的对话 / 停榜14周 / 192分
4 明明就[3周榜首] / 周杰伦 / 十二新作 / 停榜12周 / 178分
5 好的情人[1周榜首] / 严爵 / 好的情人 / 停榜13周 / 174分
6 汗水的重量 / 倪安东 / friends / 停榜13周 / 163分
7 你怎么可以安心的睡着[2周榜首] / 戴佩妮 / 纯属意外 / 停榜12周 / 162分
8 别去问他好吗[1周榜首] / 郭静 / 我们都能幸福着 / 停榜13周 / 161分
9 说了再见以后[1周榜首] / 苏打绿 / 秋.故事 / 停榜10周 / 159分
10 黑暗骑士[2周榜首] / 林俊杰&阿信 / 因你而在 / 停榜11周 / 157分

11 幸福不是情歌[1周榜首] / 刘若英 / 亲爱的路人 / 停榜12周 / 157分
12 独处的时候[1周榜首] / 苏打绿 / 秋.故事 / 停榜11周 / 155分
13 天使之翼[2周榜首] / 杨丞琳 / 天使之翼 / 停榜12周 / 154分
14 一切都是因为爱[2周榜首] / 倪安东 / 停榜10周 / 153 分
15 因你而在[2周榜首] / 林俊杰 / 停榜10周 / 153分
16 超有感[1周榜首] / 黄鸿升 / 超有感 / 停榜12周 / 152分
17 明天的自己 / S.H.E. / 花又开好了 / 停榜12周 / 150分
18 有爱到就好 / 萧亚轩 / 爱无畏 / 停榜14周 / 150分
19 勇敢很好[2周榜首] / 杨丞琳 / 天使之翼 / 停榜10周 / 147分
20 纪念日[1周榜首] / 炎亚纶 / 纪念日 / 停榜10周 / 147分

21 小时候[1周榜首] / 苏打绿 / 当我们一起走过LIVE / 停榜10周 / 143分
22 亲爱的路人[1周榜首] / 刘若英 / 亲爱的路人 / 停榜12周 / 143分
23 疗伤歌手[2周榜首] / 倪安东 / friends / 停榜9周 / 140分
24 零度的亲吻[1周榜首] / 林俊杰 / 因你而在 / 停榜10周 / 139分
25 其实都没有[1周榜首] / 杨宗纬 / 初爱 / 停榜10周 / 138分
26 剪不断 / 戴佩妮 / 纯属意外 / 停榜13周 / 133分
27 糖伯虎 / 黄鸿升 / 超有感 / 停榜11周 / 132分
28 还我 / S.H.E. / 花又开好了 / 停榜10周 / 131分
29 伤心的人别听慢歌[1周榜首] / 五月天 / 伤心的人别听慢歌(贯彻快乐) / 停榜10周 / 129分
30 入阵曲[1周榜首] / 五月天 / 兰陵王电视原声带 / 停榜10周 / 129分

31 纯属意外[1周榜首] / 戴佩妮 / 纯属意外 / 停榜11周 / 126分
32 初爱[1周榜首] / 杨宗纬 / 初爱 / 停榜9周 / 121分
33 爱你没差[1周榜首] / 周杰伦 / 十二新作 / 停榜10周 / 121分
34 黄色夹克 / 梁文音 / 黄色夹克 / 停榜9周 / 116分
35 单恋曲 / 蔡健雅 / 天使与魔鬼的对话 / 停榜10周 / 115分
36 裂缝中的阳光 / 林俊杰 / 因你而在 / 停榜11周 / 114分
37 以爱之名[1周榜首] / 萧敬腾 / 以爱之名 / 停榜8周 / 109分
38 爱的海洋 / 曲婉婷 / 我为你歌唱 / 停榜9周 / 109分
39 幸福不难 / 龚芝怡 / [志在四方]电视剧主题曲 / 停榜11周 / 109分
40 莫忘初衷[1周榜首] / 动力火车 / 光 / 停榜10周 / 108分

41 哪里都是你 / 周杰伦 / 十二新作 / 停榜9周 / 108分
42 再遇见 / 苏打绿 / 秋.故事 / 停榜7周 / 106分
43 比寂寞更寂寞 / 炎亚纶 / 纪念日 / 停榜8周 / 106分
44 缠 / 伍家辉 / The Impressoul 01 / 停榜9周 / 106分
45 骤变 / 大风吹&陈罗密欧 / [骤变]电视剧主题曲 / 停榜9周 / 105分
46 渺小[2周榜首] / 田馥甄 / 渺小 / 停榜6周 / 104分 
47 少年维特的烦恼[1周榜首] / 杨丞琳 / 想幸福的人 / 停榜7周 / 104分
48 心理的孩子 / 梁文音 / 黄色夹克 / 停榜11周 / 103分
49 红尘客栈[2周榜首] / 周杰伦 / 十二新作 / 停榜9周 / 102分 
50 听见下雨的声音 / 魏如昀 / - / 停榜9周 / 102分

51 射手 / 魔幻力量 / 射手 / 停榜11周 / 101分
52 想对你说 / 杨宗纬 / 初爱 / 停榜9周 / 98分
53 Supergirl爱无畏 / 萧亚轩 / 爱无畏 / 停榜9周 / 98分
54 我是你的[1周榜首] / 倪安东 / friends / 停榜6周 / 93分
55 旅程 / 蔡依林 / 施华洛世奇时尚音乐之旅主题曲 / 停榜7周 / 91分
56 回忆里的疯狂 / 光良 / 回忆里的疯狂 / 停榜8周 / 91分
57 马赛克 / 蔡依林 / 大艺术家 / 停榜8周 / 90分
58 以后要做的事 / 林俊杰 / 因你而在 / 停榜8周 / 90分
59 我们都能幸福着 / 郭静 / 我们都能幸福着 / 停榜7周 / 89分
60 温柔累了 / A-Lin / 幸福了 然后呢 / 停榜8周 / 87分

61 爱情的背影[1周榜首] / 林宥嘉 / Jazz Channel / 停榜8周 / 83分
62 幸福了 然后呢 / A-Lin / 幸福了 然后呢 / 停榜10周 / 81分
63 你眼中的我 / 郭静 / "致纯静"新歌+精选专辑 / 停榜7周 / 80分
64 违建 / 亦帆 / [揭秘]电视剧插曲 / 停榜6周 77分
65 稳稳的幸福 / 陈奕迅 / 稳稳的幸福 / 停榜9周 / 77分
66 为爱启程 / 杨丞琳 / 为爱启程 / 停榜7周 / 75分
67 一念之间 / 陶喆 / 再见你好吗 / 停榜6周 / 74分
68 我看见的世界 / 周蕙 / 我看见的世界 / 停榜6周 / 73分
69 全裸 / 亦帆 / [揭秘]电视剧主题曲 / 停榜6周 / 72分
70 艾琳娜 / 动力火车 / 光 / 停榜8周 / 72分

71 最安静的话 / 蔡旻佑 / [原来是美男]偶像剧原声带 / 停榜7周 / 71分
72 爱情离我一公尺 / 胡夏 / 傻瓜探戈 / 停榜7周 / 70分
73 分手后不要做朋友[1周榜首] / 梁文音 / 分手后不要做朋友 / 停榜4周 / 69分
74 小小故事 / 林思彤 / [小小传奇]电视剧主题曲 / 停榜6周 / 69分
75 千分之一 / 黄鸿升 / 超有感 / 停榜7周 / 66分
76 爱够了 / 王丽婷 / 等等 / 停榜8周 / 65分
77 忘了我 / 杨宗纬 / 初爱 / 停榜7周 / 64分
78 真爱等一下 / 陶喆&蔡健雅 / 再见你好吗 / 停榜6周 / 59分
79 感觉犯 / 魔幻力量 / 射手 / 停榜7周 / 59分
80 被驯服的象 / 蔡健雅 / 天使与魔鬼的对话 / 停榜5周 / 58分

81 爱立刻 / 方大同 / 回到未来 / 停榜6周 / 57分
82 眼泪的名字 / 谢安琪 / 谢-安琪 / 停榜6周 / 57分
83 像女孩的女人 / S.H.E. / 花又开好了 / 停榜7周 / 57分
84 台北陈睡了 / 炎亚纶 / 梦游私台北数位专辑 / 停榜7手 / 56分
85 要你好看 / 刘晋迅 / [小子当家]电视剧主题曲 / 停榜5周 / 55分
86 回忆的阁楼 / 郭静 / 我们都能幸福着 / 停榜7周 / 55分
87 勿忘我 / 陶喆 / 再见你好吗 / 停榜6周 / 53分
88 心还是热的 / S.H.E. / 花又开好了 / 停榜5周 / 52分
89 等等 / 王丽婷 / 等等 / 停榜8周 / 52分
90 明天 / 姚俊羽 / [小小传奇]电视剧插曲 / 50分

91 你就是 / 方大同 / 回到未来 / 停榜6周 / 48分
92 关不掉的月光 / 庾澄庆 / 关不掉的月光 / 停榜6周 / 47分
93 空出来的时间刚好拿来寂寞 / 张信哲 / 空出来的时间 / 停榜6周 / 47分
94 爱你怎么喊停 / 曾沛慈 / - / 停榜6周 / 44分
95 爱投罗网 / 罗志祥 / 狮子吼 / 停榜5周 / 43分
96 波爷 / 周杰伦 / [天台]电影影原声带 / 停榜7周 / 43分
97 幸福无关 / 毕书尽 / Come Back to Bii / 停榜5周 / 42分
98 Easy Come Easy Go / 蔡健雅 & MC Hotdog / 停榜8周 / 42分
99 勇敢证明 / 郑可欣 / [我要嫁出去]电视剧原声带 / 停榜6周 / 40分
100 破了的米菲兔 / 容祖儿 / 小日子 / 停榜8周 / 39分

xH

Experienced Member





Join date

: 2010-04-17


Posts

: 849





Similar topics
---
Permissions in this forum:
You
cannot
reply to topics in this forum